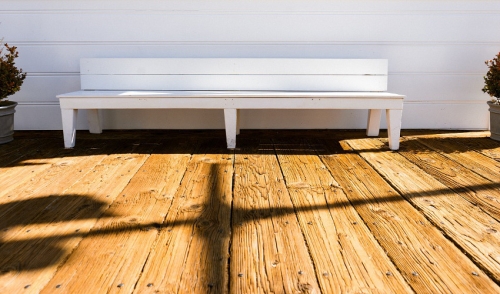 We all know that the deck is the place to be when it comes to barbecuing and relaxing in the sun. With all of the time and money invested in your deck, doesn't it make sense to enjoy it as often as possible? A lot of innovations have come to pass for decks, providing many simple and affordable ways to extend the time spent on them beyond only the nicest days of the year.
For example, a retractable awning can provide shelter from the sun during the sweltering days of summer, or a way to still be able to enjoy your deck on a rainy afternoon. Roll the awning up and you can be gazing at the stars that same evening. More permanent structures such as pergolas and gazebos are popular choices as well. Many of them offer the additional benefit of screens to keep insects at bay.
As the days get cooler, it doesn't mean you have to abandon your deck. A deck fire pit or portable outdoor patio heater can extend your time outside, so you can use your outdoor space well into the fall.
Lighting is always a worthy upgrade, enabling you to use your deck safely, late into the night. Low wattage LED and solar lighting options that are now available can provide a lot of bang for the buck.
When thinking of ways to get the most use out of your deck, consider the activities you like to do most often. Choose furnishings and a layout that can adapt to each use. Most people like to use their deck to cook and enjoy meals outside, entertain friends and family, and have a nice quiet place to relax. It's possible to have all of these—even on a small deck, with a few well planned layout choices. For example, portable furnishings such as privacy screens, planters and heaters can be rearranged depending on the need. Umbrellas offer instant, portable shade wherever required. Outdoor ottomans offer the flexibility to be used as end tables, a place to rest your feet or something to hold plants. They are also lightweight enough to be moved wherever you need them to be. Tired of hauling the outdoor furniture cushions in and out of the garage? A waterproof deck box can be the perfect solution to storing these in a dry conveniently located place.
An often overlooked, yet fun and economical use for your deck is to begin planting container gardens. By planting vegetables, fruits, or herbs on your deck using a variety of flower boxes or pots, you'll be beautifying your space while keeping your "garden" right outside the back door.
As you can see, owning a deck can mean a lot more than just a place to cook burgers and relax with a book. No matter the weather or time of day, there are plenty of ways to find an excuse to spend time outside, enjoying your deck.