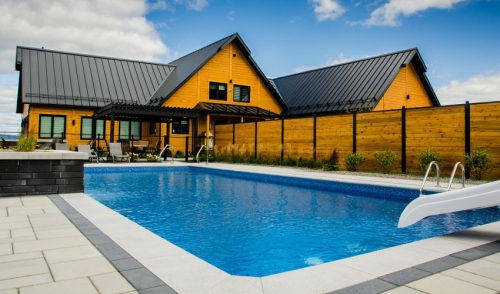 Your pool can be your go-to relaxation spot all summer long, but if it is in a harsh, unappealing location, it won't be relaxing at all. Fortunately, it's easy to create a pool-side oasis you'll love.
Safety First
Before beginning renovations on your pool area, double check that you're meeting all the necessary safety codes for fencing, surface areas, lifesaving equipment and other safety features. Ensure that flooring and steps are safe for bare feet, pool edges are smooth and ladders and railings are properly secured. A safe pool is the first step toward a relaxing, comfortable oasis the whole family can enjoy.
Elements of Your Pool-Side Oasis
What makes your personal pool retreat into a relaxing oasis will vary depending on what features you want to include in your outdoor area. Certain elements, however, are common to most pool-side entertaining areas, and you will want to consider incorporating these features into your oasis.
Privacy
Your oasis won't be relaxing at all if you feel exposed when you use it. Install privacy screens, green walls or private plantings to keep prying eyes away, and situate seating and other gathering spaces so you preserve that privacy no matter how you choose to use the space.


Shade
Keep cool in your pool-side oasis when you add shade to cover not only seating and entertainment areas, but parts of the pool as well. Roofs, awnings and umbrellas can help you add instant shade, or you can consider landscaping with taller hedges and trees to provide natural shade. Shading the west and south sides of the pool area will provide the coolest results.


Seating
When you're not in the pool, you'll want a comfortable seating area to enjoy. Consider how comfy different materials will be on bare skin fresh from the water, and opt for canvas or fabric cushions rather than vinyl. Different types of seating, including hammocks, lounge chairs, chaises and couches, can provide enough seating for all your summertime guests.


Flooring
If you can update and upgrade the flooring in your pool area, it will make a tremendous difference to the look and feel of your oasis. Pavers and flagstones are both beautiful and durable, or you can opt for different types of decking. Outdoor rugs are another great option to add a pop of color while comforting bare feet.


Lighting
Don't abandon your oasis after dark, add appropriate lighting instead. Solar stake lights or other pathway lighting can guide guests to the entertaining area, and string lights, torchieres, lanterns and even chandeliers are great choices to light up the area for fun long after the sun goes down. If possible, mood or ambient lighting in the pool adds even more luxury and elegance.


Refreshments
You won't stay in your pool-side oasis for long without tasty food and drinks to enjoy. Depending on your summertime snackiness and the entertaining you prefer, you could opt for a simple snack center with coolers or a mini-fridge, or you might go all out with a wet bar, integrated grill or outdoor kitchen.


Plants
Adding a touch of nature can really turn a pool-side retreat into a tropical oasis. Whether you can landscape adjacent to the pool and entertaining space or you need to opt for pots and containers, using tropical plants such as palms, bamboo, ornamental grasses, banana plants, crotons, cannas and ferns will give your pool a luxe look.


Sound
You can't relax in or around your pool if nearby noises intrude on your retreat, whether it is traffic, barking dogs or other unwelcome sounds. Installing a water feature such as a fountain or waterfall can reduce outside noises, as can sound-dampening walls or screens. You can also consider a sound system so you can bring your favorite tunes into your oasis.


Breezes
Adding a touch of cooling breeze can make your pool area even more relaxing and refreshing. You can position plants, screens and seating to take good advantage of natural breezes, or install a ceiling fan or mister in the entertaining area to be sure of suitable soft breezes.


Fire Pit
A fire pit can be the ideal gathering space and focal point in your pool-side oasis. As the sun sets and temperatures drop, the warm fire can keep everyone comfortable, and the prospect of roasting marshmallows, telling ghost stories or otherwise enjoying the flames is a great way to extend the summer fun well into the evening.


Entrance
When you're ready to invite others into your oasis, creating a welcoming entryway is the perfect way to introduce your relaxing retreat. Archways, gates, topiaries, floral pots and other accents can turn a simple path into a friendly greeting all your guests will appreciate.
Keeping Your Oasis Amazing
No matter how you design your pool-side oasis, you will want to keep it fresh and relaxing all summer long. To keep it always looking its best…
Perform regular pool maintenance and keep up with essential repairs.
Wash surfaces regularly to remove any buildup of pollen, dust or dirt.
Prune plants to minimize spent foliage or leaves falling into the pool.
Consider swapping cushions and colors for seasonal décor as a fresh look.