Expert Articles & Advice
July 15, 2014
Gutters play an important role in keeping your home safe from water damage. Without them, your foundation can be weakened over time; water can seep into your basement, or at the very least, splash onto your siding or damage landscaping and foliage below.
July 1, 2014
A French drain is typically used to alleviate drainage issues in your yard, lawn or garden. These problems often occur in situations where land is at or near the bottom of a slope.
Special Offers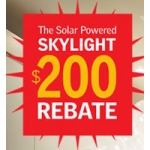 Act now and get a $200 consumer rebate on the purchase of a VELUX No Leak Solar Powered "Fresh Air" Skylight.
Valid 6/10 - 8/15/2014
Events
Store Events!
Check back regularly for updated event information!
Videos
The Solar Powered "Fresh Air" Skylight
This video showcases the many features for the new Solar Powered "Fresh Air" Skylight including ease of installation, federal tax credit savings and other benefits.
More Videos brought to you by Foster Lumber Yard!